"The purpose was to destabilize democracy -- "They want to destroy us economically." That's what Pakistani Prime Minister Yousuf Raza Gilani said yesterday after the attacks on the Marriott hotel. However, that statement is accurate for any of the attacks on the United States and other Western countries. They want to destabilize our democracy and destroy our economy. We need a leader who understands this, who is against this, and who will not facilitate this evil intent toward our wonderful America.
I know it's been said before about previous elections in the United States, but ... I do believe the 2008 Presidential elections are extremely important, maybe the most important election we have ever experienced. Why? Because this election not only affects Americans, it can and will affect the entire world.
Sen. Barack Obama wants to turn to the United Nations to make decisions for him. As Col. Oliver North says in his commentary "U.N.: Home of Anti-Americanism, Haters of Free Enterprise, and True Believers in Global Government":
The U.N. headquarters building in Manhattan has become the venue of choice for "diplomats" and foreign leaders to condemn America, our values and virtues. Since the 1960s, star billing has been promised to any dictator or despot who will take to this "world stage" for the purpose of denigrating the Unied States and our bounty, wealth and power. When they show up for the annual meeting of theU.N. General Assembly
, it is guaranteed that their horrible harangues will be broadcast all around the planet. [snip]
Just to make sure no one has any doubts as to how things will go in the days ahead, the members of the General Assembly selected Miguel d'Escoto - a prominent America-hater - as their president. When the 63rd UNGA convenes on Tuesday, Mr. d'Escoto will "moderate" this year's assaults on the United States.
For those too young to remember the portly Mr. d'Escoto, he was one of the original founders of the communist-inspired Sandinista movement that seized control of Nicaragua in 1979. His U.N.-published biography proudly proclaims that he "spearheaded the Nicaraguan Government's decision, in 1984, to bring to the International Court of Justice a claim against the United States for supporting military and paramilitary actions against the country, with the court subsequently ruling in favor of Nicaragua."
Notably, the bio makes no mention of Mr. d'Escoto, a Maryknoll priest, being publicly reprimanded by Pope John Paul II during his 1983 visit to Managua. Nor does Mr. d'Escoto's resume reflect his tenure as a paid asset of the Central Intelligence Agency in Chile. Apparently, the U.S.-haters at the U.N. just missed these facts.
None of this has deterred the utopian Mr. d'Escoto from serving as the "warm-up-act" for this year's Bash America Fest in the Big Apple. The visibly well-fed Mr. d'Escoto has already announced that this UNGA session should "go down in history as the 'Assembly of Frankness' for the sake of world peace and the eradication of poverty and hunger from the Earth."
Mr. d'Escoto has previously referred to President Ronald Reagan as a "butcher," called President George W. Bush a "liar" and now promises that under his leadership the UNGA will redress the "sad but undeniable fact that serious breaches of the peace and threats to international peace and security are being perpetrated by some members of the Security Council that seem unable to break what appears like an addiction to war."
All this is but preamble to what we can expect to hear from the likes of Iran's Mr. Ahmadinejad and Venezuela's Mr. Chavez. Both "leaders" will be there representing states that have been accused of supporting terrorism, drug-running, human-rights abuses and in the case of Tehran - pursuing a clandestine nuclear weapons program. Yet, Mr. d'Escoto claims, "No State should appropriate the right to decide on its own which States are terrorists, or sponsors of terrorism, and which are not. Less still should States that are guilty of wars of aggression, the worst form of terrorism imaginable, presume to arrogate that right unto themselves, and further, to unilaterally take action against those it has stigmatized."
When he goes before this august body next week, President Bush needs to encourage Mr. d'Escoto - and the entire Blame America First crowd gathered in the General Assembly - to read Article 51 of the U.N. Charter: "Nothing in the present Charter shall impair the inherent right of individual or collective self-defense if an armed attack occurs against a Member of the United Nations, until the Security Council has taken measures necessary to maintain international peace and security." (read it all)


This is the type people Obama wants to make decisions for the Unites States of America. The United Nations is where Iranian President Mahmoud Ahmadinejad and Venezuelan President Hugo Chavez are invited to come and bash everything we hold dear as Americans.
If Sen. Barack Obama is elected President of the United States, people should be ready for arm-twisting tactics on every level of his presidency, as witnessed in how he handled the Jewish groups and their dis-invite of Gov. Sarah Palin from the protests against a nuclear Iran. From YID With LID:
[snip] The Jewish groups that are running the rally WERE THREATENED WITH A LOSS OF THEIR TAX EXEMPT STATUS IF THE KEPT PALIN ON THE ROSTER:
The groups sponsoring the rally against Iranian President Mahmoud Ahmadinejad speaking at the UN were reportedly told, "it could jeopardize their tax exempt status" if they had Palin and not Clinton or Democratic VP candidate Joe Biden on hand.

"It's an absolute shame that this has happened," Hikind said. "To threaten organizations … to threaten the Conference of Presidents that if you don't withdraw the invitation to Gov. Palin we're going to look into your tax exempt status … that's McCarthyism (CBS News)

Why is this so serious? On one hand, it shows a total apathy to the cause that we were to be protesting. IF Senator Obama truly cared about a nuclear Iran, Hillary Clinton would not have withdrawn. But even more serious is that the pressure that Obama put on the Jewish organizers is just a dry run of what he want to do to Israel.
(continue reading at
YID With LID
)
.... it has become increasingly apparent to me that some of the most virulent Bush-haters and far-left-wing Americans supporting Barack Obama, are Jews! Good heavens! Do they have any idea what the real and psychological pressure will be like on Israel if the US administration is put in the hands of Barack Obama, who would embolden Israel's mortal enemies by making inappropriate moral equivalencies, as he has already done, and recognizing Israel's enemies as "legitimate" seekers of peace by meeting with them without any pre-conditions? What compromise position do you imagine Obama is going to propose in such a meeting when Ahmadinejad, or Assad or - take your pick - re-iterate their ultimate goal regarding Israel, now further emboldened by Obama's obsequious presence at the table??

We face many trials in our near future, the first is Islamic terrorism. I don't recall Obama mentioning the specific threat, but I do know that Sen. John McCain and Gov. Sarah Palin have named the enemy, and I know that they will not hesitate to defend the United States against that enemy.
In a video marking the seventh anniversary of the September 11 terrorist attacks, al Qaeda's top leader in Afghanistan
vows more "large-scale" attacks against the United States
and its allies. In another segment, the personal adviser to Taliban leader Mullah Omar says al Qaeda leader
Osama bin Laden is alive and well
. Al Qaeda leaders featured on the video promise more violence against their enemies. (
CNN
)

This is a Clash of Civilizations, it is 'us vs them'. It is the Muslim world against the Western world. The United States is the leading country in the world, not because we wanted that, not because we strived for that, but because our form of government has produced that position. What happens in the USA has an affect on the rest of othe world. We are not alone in the fight for freedom. The following is from Managing Muslim Violence, How to Manage Savagery by Bret Stephens, Commentary Magazine
Nor is the phenomenon of "Muslim rage" directed against America alone
. In
Spain
, the
Netherlands
,
Great Britain
,
France
and
Germany
—countries with widely varying foreign policies toward, and colonial histories in, the Muslim world—terrorist plots, terrorist attacks, spectacular murders, and mass rioting have made vivid the gulf that separates embittered and often radicalized Muslim minorities from the societies around them. Even in tiny, inoffensive
Belgium
, whose government was among the most vocal in opposing the war in Iraq and has bent over backward to respect the sensitivities of the Muslim community, the entire Brussels neighborhood of Molenbeek, according to the Flemish newspaper
Het Volk
, has been turned into a "breeding ground for thousands of jihad candidates." [snip]
...
the wars that chiefly roil the Islamic world today are no longer at its periphery. They are at the center, and they pit Muslims against other Muslims.
The genocide in
Darfur
is being perpetrated by a regime that is every bit as Muslim—and black—as its victims. The
Palestinians
went from
intifada
to civil war: in 2006 and 2007, nearly as many Palestinians died violently at the hands of other Palestinians as at the hands of Israelis. In Lebanon, there have been bloody clashes this year among Shiites, Sunnis, and Druze. Last year, the
Lebanese
government had to send troops into Palestinian refugee camps to suppress an insurrectionary attempt by a
Syrian
-sponsored terrorist group.
It does not end there. Saudi Arabia has been under attack by al Qaeda since 2003. In November 2005, Jordan suffered devastating suicide bombings at three Amman hotels in which nearly all the victims were, like their murderers, Sunni Muslims. In Afghanistan, a Muslim government led by Hamid Karzai—a Pashtun—fights an Islamist rebellion by Taliban remnants and their allies, also mostly Pashtun. In Pakistan, the axis of conflict has shifted from the east to the west, where sizable areas are under the control of Islamist militants; in 2007 alone, some 1,500 Pakistanis were killed in terrorist attacks, former Prime Minister Benazir Bhutto notably among them.
Then there is Iraq. Though Americans naturally focus on the more than 4,000 U.S. servicemen killed so far since the country was liberated in April 2003, that figure pales in comparison with the number of Iraqis killed in inter- and intra-sectarian violence: Sunnis against Shiites and Kurds, Sunnis against Sunnis, Shiites against Sunnis, Shiites against Shiites. Cumulatively, the number of civilian deaths since early 2006, when sectarian fighting got under way in earnest, now stands at just over 100,000 (according to the Brookings Institution). (continue reading)

The truck bombing in Islamabad Pakistan yesterday killed over 60 people, injured over 250. Americans were in the hotel. Several American State Department officials were in the hotel, we do not know if any of them were injured or killed.
Prime Minister Yousuf Raza Gilani said the bomber had attacked the hotel only after tight security prevented him from reaching Parliament or the prime minister's office, where the president and many dignitaries were gathered for dinner. The Czech ambassador was killed in the attack.
The Muslims are supposed to be SO religious and devoted followers, yet:
The timing of the attack - during the last 10 nights of Ramadan - could not have been more sacrilegious. Even pre-Islamic Arabs regarded the month of Ramadan as sacred, a time when tribal wars would cease. Yet for Islamist terrorists, no time is too sacred to pursue their ends through bloodshed. (more)


U.S. Adm. Michael Mullen has made his fifth trip to Pakistan in one year.


The United States is also frustrated the army of the unstable but nuclear-armed Pakistan has not been able to stop extremists in these areas from launching cross-border attacks into Afghanistan against U.S. and NATO troops, the Financial Times reported Friday.


A nuclear Iran is hell-bent on destroying Israel and the West while Obama says that is unacceptable. Talk is cheap and words from him don't seem to have any meaning. He cannot make a decision, he's a FENCE SITTER. He votes 'present', he waits for his 'brain trust' to make decisions and tell him what to say. We need a president and vice president who can make good decisions and who will act on those decisions the the safety of this country.
A Nuclear North Korea is not a possibility, it is a fact. With Kim Jon Il incapacitated from a severe stroke and brain surgery, the West has no idea who is running that country. But whoever it is, they have decided to restart their reactors.
(CNN) -- North Korea is restoring a reactor at the key Yongbyon nuclear complex and no longer wants to be removed from a U.S. list of countries that sponsor terrorism, the South Korean news agency reported Thursday.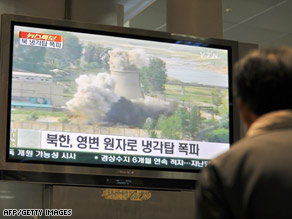 A South Korean looks at the demolition of a cooling tower at the North's Yongbyon nuclear complex, June 27, 2008.
Hyun Hak-Bong, a chief North Korean negotiator at six-nation talks, told reporters his country is "thoroughly preparing to restart" the reactor and that reporters would "know soon" when his country would do that, the Yonhap news agency said. (CNN, hat tip Rosemary)
Russia is emerging as a growing threat to small democracies, to the U.S., and to Israel:
Moscow — Russia made clear Saturday that it opposes a Western push for new sanctions against Iran over its nuclear program.
Russia spoke out against a fourth round of U.N. sanctions against Tehran at a meeting of the five permanent U.N. Security Council members and Germany in Washington on Friday, the Foreign Ministry said. (more)
Who is supplying the military hardware and the logistics for such attacks as those in Pakistan? A question the next president will have to answer:
... It appears to me that now there are indications of a disturbing possible collaboration between Islamic forces and other ideologies. ...
The Islamic strategy appears to be heading now towards utilizing the existing divisions between the various ethnicities and non-muslim religions or ideologies. There is a strong possibility that various so-called Maoist outfits, ethnic separatists, as well as some proselytizing religious groups could be playing into the hands of the Islamic Jihadi leadership.
The Quran, and the Hadiths repeatedly stress, as well as provide examples of how Islam utilizes the conflicts and misunderstandings between various groups of "unbelievers", to weaken all unbelievers until they are no longer militarily strong to resist Islam when it suddenly reveals its actual Jihadi militant agenda. (continue reading)

Random comments:
GOP would repair economy
Sen. Barack Obama keeps blaming President Bush for the financial crisis. His blame game is pointing the wrong way.
Congress creates the laws, and the Democrats have controlled both houses of Congress since January 2007. The Democratic Congress – which includes Mr. Obama – has not created any legislation that would fix the problems. Nor, it seems, has the Democratic Congress even tried to fix the problems.
Real change would be to elect McCain-Palin and more Republicans to Congress so the problems will get addressed, instead of ignored.
Steve Stovall, Plano
Places like Fact Check.org are keeping on top of all the lies put out by Barack Obama.
Barack Obama is keeping those researchers over at Fact Check .org pretty busy lately and yesterday they called him out on falsehoods and "rank misrepresentation", in a piece they called "Scaring Seniors" and today they say "Obama personally fed senior citizens another whopper," on Saturday. (continue reading)
More on the social security lies here. Obama Yelling at and Scaring Senior Citizens:
The media is not innocent in these lies either, "Media Caught Fabricating White Racists?" Obama even attacks an ABORTION SURVIVOR.
Harvard's propaganda for Obama is clearly stated By Ellis Washington
Professor Cass Sunstein's defense of Obama's
controversial views on domestic and international policy utilized the technique of moderating his policies by placing Obama to the right of his growing legion of leftist critics in the fringe blogosphere who are angry at his recent surge to the center to counter Sarah Palin's popularity as McCain's V.P. candidate. I am not convinced.
Sunstein's arguments would be plausible if this were 1988 – before the advent of conservative intellectuals like Joseph Farah, Dr. Michael Savage, Rush Limbaugh, Sean Hannity, Ann Coulter, Laura Ingraham, Justice Clarence Thomas, Justice Antonin Scalia, FoxNews, the Internet and many others in the so-called "alternative media."
But it isn't 1988; it is 2008, and now any rationally minded person can look at Professor Sunstein's apologetic for Obama and determine almost immediately if it is truth or propaganda. (continue reading at Western Front America)
Other reading:

Ayoon Wa Azan (Terrorists are Religiously and Mentally Retarded)
500 detained in anti-Islam congress protest in Germany
Violent protests by leftists forced the cancellation of a far-right rally against the influence of Islam in Europe and prompted the detention of 500 people, German authorities said Sunday.
ACLU Wins Case for Lesbian Trapped in Man's Body
Iraq, Saudi Arabia swap prisoners,Reuters

Elon Poll: GOP Holds Edge in Presidential Race
Paul McCartney Tells Islam To Stick Its Death Threats Up Its Bum