Dirty Nuke Attack in the Works?
Last Crusade Investigation Reveals Cover-Up
By Paul L. Williams, Phd.
An confidential FBI document states that an unspecified quantity of Cesium-137 has been stolen from a North American university.
The document came from the office of Bernadette R. Bland, the Supervisory Special
Agent for the FBI's Weapons of Mass Destruction Directorate.
My calls to Ms. Bland remain unanswered even though I left a message stating that I had significant information about the missing Cesium and homegrown Muslim terrorists who are intent upon launching a dirt nuke attack in several major U.S. cities.
Instead of responding, Ms. Bland ordered that all information concerning the missing radiological material be deleted from official websites and news-outlets.
The directive for a cover-up of the incident was sent as follows by Ms. Band to the Oak Ridge National Laboratory:
"Oak Ridge National Laboratory Requests Removal of Document from Public Intelligence"
November 7, 2010
The following message was received on November 3, 2010.  It requests the removal of a For Official Use Only FBI Weapons of Mass Destruction Directorate Nuclear/Radiological Outreach Briefing which was presented at an event held in September 2010 at Oak Ridge National Laboratory (ORNL) regarding Test and Research Reactor facilities.  The document was inadvertently posted to the ORNL conference website at the following URL: 
http://publicintelligence.net/fbi-weapons-of-mass-destruction-directorate-nuclearradiological-outreach-brief/
http://info.publicintelligence.net/FBI-NuclearOutreach.pdf
According to the Project Controls Analyst for the High Flux Isotope Reactor at ORNL, one of the presentation's authors contacted her regarding the "unauthorized" publication.  Information regarding the presentation's authors is contained on the first and last pages of the briefing and is reproduced below, followed by the message from ORNL.
Bernadette R. Bland, Supervisory Special Agent Countermeasures
202-324-7821
B.Bland@ic.fbi.gov
THE CAMEL'S NOSE UNDER THE TENT
The directive concerning the missing Cesium raises questions about other incidents concerning matters of national importance that have been concealed from the public.
The failure of Ms. Bland's office to respond to my calls remain incomprehensible
since I have served the bureau for many years as a consultant on organized crime and terrorism and since I have penned four best-selling and critically-acclaimed books on the attempts of radical Islamists to secure nuclear and radiological material.
Indeed, my reports, concerning the presence of al Qaeda operatives at the nuclear reactor of McMaster University in Hamilton, Ontario, resulted in a $4 million lawsuit that remains to go to trial, despite substantiation of my claims by Canadian law enforcement officials, officials from Harvard University's Belfer Center, and major news outlets.
THE STOLEN CESIUM

The thief, according to the suppressed report, overturned a 600 pound liquid scintillation counter and removed the rear access panel in order to gain access to the Cesium.
The scintillation counter, which measures ionizing radiation, was kept in an unlocked room.
Calls to Ms. Bland's office remain unanswered.
Cesium 137 is the ideal substance for a radiological weapon, that is, a "dirty nuke."
A bomb made of 50 pounds of Cesium could kill hundreds in a matter of minutes and contaminate thousands more.
A single grain of Cesium-137, if inhaled or ingested, is a bone sucker. It goes straight to the marrow, halts the production of platelets, and causes the mutation of cells. Within days of exposure, victims who have been exposed to such particles will display the first signs of radiological poisoning: bleeding from the nose and mouth, diarrhea, hair loss, purple fingernails, high fever, and delirium.
Within a manner of months and years, such victims will develop various kinds of malignancies: thyroid cancer, pancreatic cancer, breast cancer, cancer of the reproductive organs, and malignant brain tumors.
The bodies of such victims must be buried in lead-lined caskets to prevent further contamination.
A dirty nuke composed of Cesium-137 would produce other results as well.
The decontamination effort would require that the radiological particles be removed from the contaminated areas.
Removing cesium particles is no easy task.
The particles cannot be blown away or scrubbed away. The cleanup would require the dumping of mounds of sand over the exposed soil, the uprooting of trees and shrubbery, the removal of all asphalt and concrete from streets and sidewalks, the killing of household pets and park animals (including birds), and the razing of homes and buildings.
FAVORITE RADIOLOGICAL SUBSTANCE

The intent of radical Muslims to create and deploy radiological devises composed of Cesium-137 was crystallized on November 23, 1995, when the Chechen rebels planted such a devise in the heart of Izmailovsky Park on the outskirts of Moscow.
The bomb had been made of seventy pounds of Cesium-137 with a black market value of thirty-two million dollars.
The incident represented the first deployment of a radiological device as a weapon of terror.
Regarding the incident, Shamil Basayev, commander of the Chechen rebels, said: "Putting cesium in Moscow requires one person. One person gets killed and the city dies."
(Below the fold is background information Testimony of Dr. Henry Kelly, President, Federation of American Scientists before the Senate Committee on Foreign Relations March 6, 2002)
* * * * * * * *
Testimony of Dr. Henry Kelly, President
Federation of American Scientists
before the
Senate Committee on Foreign Relations
March 6, 2002


Surely there is no more unsettling task than considering how to defend our nation against individuals and groups seeking to advance their aims by killing and injuring innocent people. But recent events make it necessary to take almost inconceivably evil acts seriously. We are all grateful for the Committee's uncompromising review of these threats and its search for responses needed to protect our nation. Thank you for the opportunity to support these efforts.
My remarks today will review the dangers presented by radiological attacks, situations where nuclear materials that could be released, without using a nuclear explosive device, for the malicious purpose of killing or injuring American citizens and destroying property. Our analysis of this threat has reached three principle conclusions:
Radiological attacks constitute a credible threat. Radioactive materials that could be used for such attacks are stored in thousands of facilities around the US, many of which may not be adequately protected against theft by determined terrorists. Some of this material could be easily dispersed in urban areas by using conventional explosives or by other methods.

While radiological attacks would result in some deaths, they would not result in the hundreds of thousands of fatalities that could be caused by a crude nuclear weapon. Attacks could contaminate large urban areas with radiation levels that exceed EPA health and toxic material guidelines.

Materials that could easily be lost or stolen from US research institutions and commercial sites could contaminate tens of city blocks at a level that would require prompt evacuation and create terror in large communities even if radiation casualties were low. Areas as large as tens of square miles could be contaminated at levels that exceed recommended civilian exposure limits. Since there are often no effective ways to decontaminate buildings that have been exposed at these levels, demolition may be the only practical solution. If such an event were to take place in a city like New York, it would result in losses of potentially trillions of dollars.
The analysis I will summarize here was conducted by Michael Levi, Director of the Strategic Security Program at the Federation of American Scientists (FAS), and by Dr. Robert Nelson of Princeton University and FAS.
Materials are radioactive if their atomic nuclei (or centers) spontaneously disintegrate (or decay) with high-energy fragments of this disintegration flying off into the environment. Several kinds of particles can so be emitted, and are collectively referred to as radiation. Some materials decay quickly, making them sources of intense radiation, but their rapid decay rate means that they do not stay radioactive for long periods of time. Other materials serve as a weaker source of radiation because they decay slowly. Slow rates of decay mean, however, that a source may remain dangerous for very long periods. Half of the atoms in a sample of cobalt-60 will, for example, disintegrate over a five year period, but it takes 430 years for half of the atoms in a sample of americium-241 to decay.
The radiation produced by radioactive materials provides a low-cost way to disinfect food sterilize medical equipment, treat certain kinds of cancer, find oil, build sensitive smoke detectors, and provide other critical services in our economy. Radioactive materials are also widely used in university, corporate, and government research laboratories. As a result, significant amounts of radioactive materials are stored in laboratories, food irradiation plants, oil drilling facilities, medical centers, and many other sites.
Commercial Uses


Radioactive sources that emit intense gamma-rays, such as cobalt-60 and cesium-137, are useful in killing bacteria and cancer cells. Gamma-rays, like X-rays, can penetrate clothing, skin, and other materials, but they are more energetic and destructive. When these rays reach targeted cells, they cause lethal chemical changes inside the cell.





Plutonium and americium also serve commercial and research purposes. When plutonium or americium decay, they throw off a very large particle called an alpha particle. Hence, they are referred to as alpha emitters. Plutonium, which is used in nuclear weapons, also has non-military functions. During the 1960s and 1970s the federal government encouraged the use of plutonium in university facilities studying nuclear engineering and nuclear physics. Americium is used in smoke detectors and in devices that find oil sources. These devices are lowered deep into oil wells and are used to detect fossil fuel deposits by measuring hydrogen content as they descend.

Present Security


With the exception of nuclear power reactors, commercial facilities do not have the types or volumes of materials usable for making nuclear weapons. Security concerns have focused on preventing thefts or accidents that could expose employees and the general public to harmful levels of radiation. A thief might, for example, take the material for its commercial value as a radioactive source, or it may be discarded as scrap by accident or as a result of neglect. This system works reasonably well when the owners have a vested interest in protecting commercially valuable material. However, once the materials are no longer needed and costs of appropriate disposal are high, security measures become lax, and the likelihood of abandonment or theft increases.





Concern about the intentional release of radioactive materials changes the situation in fundamental ways. We must wrestle with the possibility that sophisticated terrorist groups may be interested in obtaining the material and with the enormous danger to society that such thefts might present.





Significant quantities of radioactive material have been lost or stolen from US facilities during the past few years and thefts of foreign sources have led to fatalities. In the US, sources have been found abandoned in scrap yards, vehicles, and residential buildings. In September, 1987, scavengers broke into an abandoned cancer clinic in Goiania, Brazil and stole a medical device containing large amounts of radioactive cesium. An estimated 250 people were exposed to the source, eight developed radiation sickness, and four died.





In almost all cases, the loss of radioactive materials has resulted from an accident or from a thief interested only in economic gain. In 1995, however, Chechen rebels placed a shielded container holding the Cesium-137 core of a cancer treatment device in a Moscow park, and then tipped off Russian reporters of its location.





Enhanced security measures at commercial sites that use dangerous amounts of radioactive material are likely to increase the cost of using radioactive materials and may possibly stimulate development and use of alternative technologies for some applications.

Health Risks


Gamma rays pose two types of health risks. Intense sources of gamma rays can cause immediate tissue damage, and lead to acute radiation poisoning. Fatalities can result from very high doses. Long-term exposure to low levels of gamma rays can also be harmful because it can cause genetic mutations leading to cancer. Triggering cancer is largely a matter of chance: the more radiation you're exposed to, the more often the dice are rolled. The risk is never zero since we are all constantly being bombarded by large amounts of gamma radiation produced by cosmic rays, which reach us from distant stars. We are also exposed to trace amounts of radioactivity in the soil, in building materials, and other parts of our environment. Any increase in exposure increases the risk of cancer.





Alpha particles emitted by plutonium, americium and other elements also pose health risks. Although these particles cannot penetrate clothing or skin, they are harmful if emitted by inhaled materials. If plutonium is in the environment in particles small enough to be inhaled, contaminated particles can lodge in the lung for extended periods. Inside the lung, the alpha particles produced by plutonium can damage lung tissue and lead to long-term cancers.
We have chosen three specific cases to illustrate the range of impacts that could be created by malicious use of comparatively small radioactive sources: the amount of cesium that was discovered recently abandoned in North Carolina, the amount of cobalt commonly found in a single rod in a food irradiation facility, and the amount of americium typically found in oil well logging systems. The impact would be much greater if the radiological device in question released the enormous amounts of radioactive material found in a single nuclear reactor fuel rod, but it would be quite difficult and dangerous for anyone to attempt to obtain and ship such a rod without death or detection. The Committee will undoubtedly agree that the danger presented by modest radiological sources that are comparatively easy to obtain is significant as well.
Impact of the release of radioactive material in a populated area will vary depending on a number of factors, many of which are not predictable. Consequences depend on the amount of material released, the nature of the material, the details of the device that distributes the material, the direction and speed of the wind, other weather conditions, the size of the particles released (which affects their ability to be carried by the wind and to be inhaled), and the location and size of buildings near the release site. Uncertainties inherent in the complex models used in predicting the effects of a radiological weapon mean that it is only possible to make crude estimates of impacts; the estimated damage we show might be too high by a factor of ten, or underestimated by the same factor. The following examples are then fairly accurate illustrations, rather than precise predictions.
In all three cases we have assumed that the material is released on a calm day (wind speed of one mile per hour). We assume that the material is distributed by an explosion that causes a mist of fine particles to spread downwind in a cloud. The blast itself, of course, may result in direct injuries, but these have not been calculated. People will be exposed to radiation in several ways.
First, they will be exposed to material in the dust inhaled during the initial passage of the radiation cloud, if they have not been able to escape the area before the dust cloud arrives. We assume that about 20% of the material is in particles small enough to be inhaled. If this material is plutonium or americium (or other alpha emitters), the material will stay in the body and lead to long term exposure.

Second, anyone living in the affected area will be exposed to material deposited from the dust that settles from the cloud. If the material contains cesium (or other gamma emitters) they will be continuously exposed to radiation from this dust, since the gamma rays penetrate clothing and skin. If the material contains plutonium (or other alpha emitters), dust that is pulled off the ground and into the air by wind, automobile movement, or other actions will continue to be inhaled, adding to exposure.

In a rural area, people would also be exposed to radiation from contaminated food and water sources.
The EPA has a series of recommendations for addressing radioactive contamination that would likely guide official response to a radiological attack. Immediately after the attack, authorities would evacuate people from areas contaminated to levels exceeding these guidelines. People who received more than twenty-five times the threshold dose for evacuation would have to be taken in for medical supervision.
In the long term, the cancer hazard from the remaining radioactive contamination would have to be addressed. Typically, if decontamination could not reduce the danger of cancer death to about one-in-ten-thousand, the EPA would recommend the contaminated area be eventually abandoned. Decontaminating an urban area presents a variety of challenges. Several materials that might be used in a radiological attack can chemically bind to concrete and asphalt, while other materials would become physically lodged in crevices on the surface of buildings, sidewalks and streets. Options for decontamination would range from sandblasting to demolition, with the latter likely being the only feasible option. Some radiological materials will also become firmly attached to soil in city parks, with the only disposal method being large scale removal of contaminated dirt. In short, there is a high risk that the area contaminated by a radiological attack would have to be deserted.
We now consider the specific attack scenarios. The first two provide examples of attacks using gamma emitters, while the last example uses an alpha emitter. In each case, we have calculated the expected size of the contaminated area, along with other zones of dangerously high contamination. The figures in the Appendix provide a guide to understanding the impact of the attacks.
Example 1- Cesium (Gamma Emitter) - Figure 1 (Back to top)
Two weeks ago, a lost medical gauge containing cesium was discovered in North Carolina. Imagine that the cesium in this device was exploded in Washington, DC in a bomb using ten pounds of TNT. The initial passing of the radioactive cloud would be relatively harmless, and no one would have to evacuate immediately. But what area would be contaminated? Residents of an area of about five city blocks, if they remained, would have a one-in-a-thousand chance of getting cancer. A swath about one mile long covering an area of forty city blocks would exceed EPA contamination limits, with remaining residents having a one-in-ten thousand chance of getting cancer. If decontamination were not possible, these areas would have to be abandoned for decades. If the device was detonated at the National Gallery of Art, the contaminated area might include the Capitol, Supreme Court, and Library of Congress, as seen if figure one.
Example 2 - Cobalt (Gamma Emitter) - Figure 2 and Figure 3 (Back to top)
Now imagine if a single piece of radioactive cobalt from a food irradiation plant was dispersed by an explosion at the lower tip of Manhattan. Typically, each of these cobalt "pencils" is about one inch in diameter and one foot long, with hundreds of such pieces often being found in the same facility. Admittedly, acquisition of such material is less likely than in the previous scenario, but we still consider the results, depicted in figure two. Again, no immediate evacuation would be necessary, but in this case, an area of approximately one-thousand square kilometers, extending over three states, would be contaminated. Over an area of about three hundred typical city blocks, there would be a one-in-ten risk of death from cancer for residents living in the contaminated area for forty years. The entire borough of Manhattan would be so contaminated that anyone living there would have a one-in-a-hundred chance of dying from cancer caused by the residual radiation. It would be decades before the city was inhabitable again, and demolition might be necessary.
For comparison, consider the 1986 Chernobyl disaster, in which a Soviet nuclear power plant went through a meltdown. Radiation was spread over a vast area, and the region surrounding the plant was permanently closed. In our current example, the area contaminated to the same level of radiation as that region would cover much of Manhattan, as shown in figure three. Furthermore, near Chernobyl, a larger area has been subject to periodic controls on human use such as restrictions on food, clothing, and time spent outdoors. In the current example, the equivalent area extends fifteen miles.
To summarize the first two examples, materials like cesium, cobalt, iridium, and strontium (gamma emitters) would all produce similar results. No immediate evacuation or medical attention would be necessary, but long-term contamination would be render large urban areas useless, resulting in severe economic and personal hardship.
Example 3 - Americium (Alpha Emitter) - Figure 4 and Figure 5 (Back to top)
A device that spread materials like americium and plutonium would create present an entirely a different set of risks. Consider a typical americium source used in oil well surveying. If this were blown up with one pound of TNT, people in a region roughly ten times the area of the initial bomb blast would require medical supervision and monitoring, as depicted in figure four. An area 30 times the size of the first area (a swath one kilometer long and covering twenty city blocks) would have to be evacuated within half an hour. After the initial passage of the cloud, most of the radioactive materials would settle to the ground. Of these materials, some would be forced back up into the air and inhaled, thus posing a long-term health hazard, as illustrated by figure five. A ten-block area contaminated in this way would have a cancer death probability of one-in-a-thousand. A region two kilometers long and covering sixty city blocks would be contaminated in excess of EPA safety guidelines. If the buildings in this area had to be demolished and rebuilt, the cost would exceed fifty billion dollars.
A number of practical steps can be taken that would greatly reduce the risks presented by radiological weapons. Our recommendations fall into three categories: (1) Reduce opportunities for terrorists to obtain dangerous radioactive materials, (2) Install early warning systems to detect illicit movement of radioactive materials, and (3) Minimize casualties and panic from any attack that does occur. Since the US is not alone in its concern about radiological attack, and since we clearly benefit by limiting access to dangerous materials anywhere in the world, many of the measures recommended should be undertaken as international collaborations.
Reduce access to radioactive materials



Radioactive materials facilitate valuable economic, research and health care technologies. Measures needed to improve the security of facilities holding dangerous amounts of these materials will increase costs. In some cases, it may be worthwhile to pay a higher price for increased security. In other instances, however, the development of alternative technologies may be the more economically viable option. Specific security steps include the following:





Fully fund material recovery and storage programs. Hundreds of plutonium, americium, and other radioactive sources are stored in dangerously large quantities in university laboratories and other facilities. When these materials are actively used and considered a valuable economic asset, they are likely to be well protected. But in all too many cases they are not used frequently, resulting in the risk that attention to their security will diminish over time. At the same time, it is difficult for the custodians of these materials to dispose of them since in many cases only the DOE is authorized to recover and transport them to permanent disposal sites. The DOE Off-Site Source Recovery Project (OSRP), which is responsible for undertaking this task, has successfully secured over three-thousand sources and has moved them to a safe location. Unfortunately, the inadequate funding of this program serves as a serious impediment to further source recovery efforts. Funding for OSRP has been repeatedly cut in the FY2001 and 2002 budgets and the presidential FY2003 budget proposal, significantly delaying the recovery process. In the cases of FY01 and FY02, the 25% and 35% cuts were justified as money being transferred to higher priorities; the FY03 would cut funding by an additional 26%. This program should be given the needed attention and firm goals should be set for identifying, transporting, and safeguarding all unneeded radioactive materials.
Review licensing and security requirements and inspection procedures for all dangerous amounts of radioactive material. HHS, DOE, NRC and other affected agencies should be provided with sufficient funding to ensure that physical protection measures are adequate and that inspections are conducted on a regular basis. A thorough reevaluation of security regulations should be conducted to ensure that protective measures apply to amounts of radioactive material that pose a homeland security threat, not just those that present a threat of accidental exposure.
Fund research aimed at finding alternatives to radioactive materials. While radioactive sources provide an inexpensive way to serve functions such as food sterilization, smoke detection, and oil well logging, there are sometimes other, though possibly more expensive, ways to perform the same functions. A research program aimed at developing inexpensive substitutes for radioactive materials in these applications should be created and provided with adequate funding.

Early Detection



Expanded use of radiation detection systems. Systems capable of detecting dangerous amounts of radiation are comparatively inexpensive and unobtrusive. Many have already been installed in critical locations around Washington, DC, at border points and throughout the US. The Office of Homeland Security should act promptly to identify all areas where such sensors should be installed, ensure that information from these sensors is continuously assessed, and ensure adequate maintenance and testing. High priority should be given to key points in the transportation system, such as airports, harbors, rail stations, tunnels, highways. Routine checks of scrap metal yards and land fill sites would also protect against illegal or accidental disposal of dangerous materials.
Fund research to improve detectors. Low-cost networking and low-cost sensors should be able to provide wide coverage of critical urban areas at a comparatively modest cost. A program should be put in place to find ways of improving upon existing detection technologies as well as improving plans for deployment of these systems and for responding to alarms.

Effective Disaster response



An effective response to a radiological attack requires a system capable of quickly gauging the extent of the damage, identifying appropriate responders, developing a coherent response plan, and getting the necessary personnel and equipment to the site rapidly. The immediate goal must be to identify the victims that require prompt medical attention (likely to be a small number) and to ensure that all other unauthorized personnel leave the affected area quickly, without panic, and without spreading the radioactive material. All of this requires extensive training.




Training for hospital personnel and first responders. First responders and hospital personnel need to understand how to protect themselves and affected citizens in the event of a radiological attack and be able to rapidly determine if individuals have been exposed to radiation.



There is great danger that panic in the event of a radiological attack on a large city could lead to significant casualties and severely stress the medical system. Panic can also cause confusion for medical personnel. The experience of a radiological accident in Brazil suggests that a large number of people will present themselves to medical personnel with real symptoms of radiation sickness - including nausea and dizziness - even if only a small fraction of these people have actually been exposed to radiation. Medical personnel need careful training to distinguish those needing help from those with psychosomatic symptoms. While generous funding has been made available for training first responders and medical personnel, the program appears in need of a clear management strategy. Dozens of federal and state organizations are involved, and it is not clear how materials will be certified or accredited. Internet-based tools for delivering the training will almost certainly be necessary to ensure that large numbers of people throughout the US get involved. In the US, there are over 2.7 million nurses and over a million police and firefighters who will require training, not to mention the medics in the US armed services. However, there appears to be no coherent program for developing or using new tools to deliver needed services, and to ensure that training and resource materials are continuously upgraded and delivered securely.

Decontamination Technology. Significant research into cleanup of radiologically contaminated cities has been conducted in the past, primarily in addressing the possibility of nuclear war. Such programs should be revisited with an eye to the specific requirements of cleaning up after a radiological attack. As demonstrated above, the ability to decontaminate large urban areas might mean the difference from being able to continue inhabiting a city and having to abandon it.
The events of September 11 have created a need to very carefully assess our defense needs and ensure that the resources we spend for security are aligned with the most pressing security threats. The analysis summarized here shows that the threat of malicious radiological attack in the US is quite real, quite serious, and deserves a vigorous response. Fortunately, there are a number of comparatively inexpensive measures that can and should be taken because they can greatly reduce the likelihood of such an attack. The US has indicated its willingness to spend hundreds of billions of dollars to combat threats that are, in our view, far less likely to occur. This includes funding defensive measures that are far less likely to succeed than the measures that we propose in this testimony. The comparatively modest investments to reduce the danger of radiological attack surely deserve priority support.
In the end, however, we must face the brutal reality that no technological remedies can provide complete confidence that we are safe from radiological attack. Determined, malicious groups might still find a way to use radiological weapons or other means when their only goal is killing innocent people, and if they have no regard for their own lives. In the long run our greatest hope must lie in building a prosperous, free world where the conditions that breed such monsters have vanished from the earth.
* * * * * * 
Plutonium Safety for Public-Workers Protection

http://www.ofr.gov/OFRUpload/OFRData/2010-28683_PI.pdf
[FR Doc. 2010-28683 Filed 11/12/2010 at 8:45 am; Publication Date: 11/15/2010]
3670-01
DEFENSE NUCLEAR FACILITIES SAFETY BOARD
[Recommendation 2010-1]
Safety Analysis Requirements for Defining Adequate Protection for the Public and the Workers
AGENCY: Defense Nuclear Facilities Safety Board.
ACTION: Notice, recommendation.
SUMMARY: Pursuant to 42 U.S.C. 2286a(a)(5), the Defense Nuclear Facilities Safety Board has made a recommendation to the Secretary of Energy requesting an amendment to the Department of Energy's nuclear safety rule, 10 CFR Part 830.
DATES: Comments, data, views, or arguments concerning the recommendation are due on or before [insert date 30 days from the date of Federal Register publication].
ADDRESS: Send comments, data, views, or arguments concerning this recommendation to:
Defense Nuclear Faculties Safety Board, 625 Indiana Avenue, NW, Suite 700, Washington, D.C. 20004-2001.
FOR FURTHER INFORMATION CONTACT: Brian Grosner or Andrew L. Thibadeau at the address above or telephone number (202-694-7000).
Date: November 9, 2010
Peter S. Winokur,
Chairman
__________
RECOMMENDATION 2010-1 TO THE SECRETARY OF ENERGY
Safety Analysis Requirements for Defining Adequate Protection
for the Public and the Workers
Pursuant to 42 U.S.C. § 2286a(a)(5)
Atomic Energy Act of 1954, As Amended
Dated: October 29, 2010
Background
The Department of Energy's (DOE) nuclear safety regulations were developed as a result of a mandate by Congress in the Price Anderson Act Amendments of 1988. These regulations now appear in Parts 820, 830, and 835 of Title 10 in the Code of Federal Regulations (CFR). In this Recommendation, the Defense Nuclear Facilities Safety Board (Board) addresses recent changes in DOE's "interpretation" of certain critical provisions of Title 10 CFR Part 830, Nuclear Safety Management (10 CFR Part 830), provisions which are intended to provide adequate protection of the public health and safety. As explained below, in the Board's view this revised interpretative posture weakens the safety structure the rule is designed to hold firmly in place.
10 CFR Part 830 imposes a requirement that a documented safety analysis, or DSA, is to be prepared for every DOE nuclear facility. This DSA, once approved by DOE, forms the regulatory basis for safety of the facility or operation. 10 CFR Part 830 does more, however: its Appendix A provides "safe harbors" for the preparation and approval of DSAs. These safe harbors are, in the main, references to detailed guidance issued by DOE. A DSA that is prepared following applicable guidance found in "safe harbors" should be found acceptable, meaning that the facility's safety systems are adequate to protect public health and safety from nuclear hazards.
One of the key safe harbor guides for the preparation of DSAs is DOE Standard 3009-94, Preparation Guide for U.S. Department of Energy Nonreactor Nuclear Facility Safety Analysis Reports.1 First issued in July of 1994, this Standard was intended to provide guidance on meeting the requirements imposed by DOE Order 5480.23, Nuclear Safety Analysis Reports, a set of nuclear safety requirements that preceded and were supplanted by 10 CFR Part 830. The Standard stated that "Technical Standards, such as this document, support the guides by providing additional guidance into how the requirements [of Orders and Rules] should be met." As such, it did not contain any nuclear safety requirements. Five years after its initial issuance, DOE amended Standard 3009-94 by the addition of Appendix A, entitled "Evaluation Guidelines." These guidelines apply dose criteria to the results of accident calculations found in DSAs. Stated broadly, the Evaluation Guidelines mandate that safety class systems be installed if, as a result of a potential accident, the unmitigated dose consequences at the site boundary approach or exceed 25 rem Total Effective Dose Equivalent (TEDE).
__________
1 When DOE issued Change Notice 2, the title of this Standard was revised to Preparation Guide for U.S. Department of Energy Nonreactor Nuclear Facility Documented Safety Analyses.

When 10 CFR Part 830 was promulgated in final form in early 2001, the version of DOE Standard 3009-94 incorporated into Appendix A of the rule as a safe harbor included the Evaluation Guidelines. This combination of the rule's requirement for an approved DSA and the application of the Evaluation Guidelines of DOE Standard 3009-94 formed the basis upon which adequate protection of the public health and safety would be gauged. Whenever dose consequence calculations showed that an accident scenario would result in offsite doses approaching or exceeding 25 rem TEDE, safety class systems would have to be chosen and installed to reduce this dose to a small fraction of the Evaluation Guidelines.
Developments Since 2001
As a safe harbor for 10 CFR Part 830, the Evaluation Guidelines described in DOE Standard 3009-94 have been enforced and met for the majority of DOE's defense nuclear facilities, assuring adequate protection to the public, workers, and the environment. However, in December 2008, the National Nuclear Security Administration (NNSA) approved a DSA for the Plutonium Facility at Los Alamos National Laboratory that represented a significant departure from the accepted methodology, as discussed in the Board's Recommendation 2009-2, Los Alamos National Laboratory Plutonium Facility Seismic Safety. The Board followed up its Recommendation with a letter to the Deputy Secretary of Energy on March 15, 2010, that sought to determine whether DOE's current interpretation of 10 CFR Part 830 and DOE Standard 3009-94 still supports the principles of providing adequate protection of the public, workers, and the environment from the hazards of operating DOE's defense nuclear facilities. The Board's letter particularly expressed concern regarding the appearance that DOE's present interpretation is that nuclear safety Evaluation Guidelines established in DOE Standard 3009-94 do not have to be met.
DOE's June 10, 2010, response to the Board's letter states that DOE's utilization and implementation of DOE Standard 3009-94 has not changed since issuance of 10 CFR Part 830. DOE's response observes that DOE Standard 3009-94 "was not written as a prescriptive item-by-item requirements document; rather it provides an overall approach and guidance for preparing a DSA." DOE's response states that the Standard describes steps that the contractor may take if the postulated accident consequences cannot be mitigated below the Evaluation Guideline. DOE's response also cites guidance for DOE approval authorities contained in DOE Standard 1104-2009, Review and Approval of Nuclear Facility Safety Basis and Safety Design Basis Documents, and notes that the Safety Basis Approval Authority may prescribe interim controls and planned improvements if the Evaluation Guideline is exceeded. DOE's response closes by stating that its managers "are expected to carefully evaluate situations that fall short of expectations and only provide their approval of documented safety analyses when they are satisfied that operations can be conducted safely…, that options to meet DOE expectations have been evaluated, and that adequate commitments to achieve an appropriate safety posture in a timely manner have been made."
The lack of definitive statements in DOE's June 10, 2010, response illustrates the difficulties inherent in applying a guidance document as a safe harbor for implementing the requirements of a regulation. Furthermore, NNSA's approval of the DSA for the Los Alamos National Laboratory's Plutonium Facility in December 2008 demonstrates that, despite DOE's stated expectations, it is not always true that DOE's managers will ensure safety by imposing conditions of approval that address inadequacies in the safety basis. This is illustrated to a lesser extent at the other NNSA facilities—described in follow-up correspondence NNSA issued to the Board on June 30, 2010—which have not implemented controls or compensatory measures sufficient to reduce accident consequences below the Evaluation Guideline. DOE Standard 1104-2009 serves as a source of guidance for DOE Safety Basis Approval Authorities, but it, too, is a guidance document, unequivocally stating, "This Standard does not add any new requirements for DOE or its contractors."
DOE's standards-based regulatory system needs a clear and unambiguous set of nuclear safety requirements to ensure that adequate protection of the public, workers, and the environment is provided. Further, it is imperative that DOE provide clear direction to its Safety Basis Approval Authorities to ensure that, if nuclear safety requirements cannot be met prior to approval of a DSA, DOE imposes clear conditions of approval for compensatory measures for the short term and facility modifications for the longer term to achieve the required safety posture. This acceptance of risk and commitment to future upgrades must be approved at a level of authority within DOE that is high enough to control both the resources needed to accomplish the upgrades as well as the programmatic decision-making involved in determining that the risk of continuing operations is offset by sufficiently compelling programmatic needs.
Item 4 of the Recommendation below deserves a further word of explanation. The Board does not recommend lightly a change to DOE's nuclear safety regulations. But as explained above, DOE has chosen over the past several years to drift away from the principles that underlay the rule as originally intended. The Board has chosen to recommend a rule change because this action would tend, in the long run, to prevent future shifts in DOE safety policy that would once again have to be challenged and argued against. For these reasons, the Board recommends that the nuclear safety rule, 10 CFR Part 830, be amended as stated below.
Recommendation
Therefore, the Board recommends that DOE:
1. Immediately affirm the previously understood requirement that unmitigated, bounding-type accident scenarios will be used at DOE's defense nuclear facilities to estimate dose consequences at the site boundary, and that a sufficient combination of structures, systems, or components must be designated safety class to prevent exposures at the site boundary from approaching or exceeding 25 rem TEDE.

2. For those defense nuclear facilities that have not implemented compensatory measures sufficient to reduce exposures at the site boundary below 25 rem TEDE, direct the responsible program secretarial officer to develop a plan to meet this requirement within a reasonable timeframe.

3. Revise DOE Standard 3009-94 to identify clearly and unambiguously the requirements that must be met to demonstrate that an adequate level of protection for the public and workers is provided through a DSA. This should be accomplished, at a minimum, by:

a. Clearly defining methodologies and providing acceptability criteria for controls, parameters, processes, analytical tools, and other data that should be used in preparation of a DSA.

b. Delineating the criteria to be met for identification and analyses of an adequate set of Design Basis Accidents (for new facilities), or Evaluation Basis Accidents (for existing facilities).

c. Providing criteria that must be met by the safety-class structures, systems, and components to (i) mitigate the consequences to a fraction of the Evaluation Guideline, or (ii) prevent the events by demonstrating an acceptable reliability for the preventive features.

d. Establishing a process and path forward to meeting (a) through (c) above through compensatory measures and planned improvements if the DSA cannot demonstrate compliance.

4. Amend 10 CFR Part 830 by incorporating the revised version of DOE Standard 3009-94 into the text as a requirement, instead of as a safe harbor cited in Table 2.

5. Formally establish the minimum criteria and requirements that govern federal approval of a DSA, by revision to DOE Standard 1104-2009 and other appropriate documents. The criteria and requirements should include:

a. The authorities that can be delegated, the required training and qualification of the approval authority, and the boundaries and limitations of the approval authority's responsibilities,

b. Actions to be taken if conditions are beyond the specified boundaries and limitations of the approval authority,

c. The organization or the individual who can approve a DSA that is beyond the delegated approval authority's boundaries and limitations,

d. The regulatory process that must be followed if condition are beyond the specified boundaries and limitations of the approval authority, and any compensatory actions to be taken, and

e. The criteria the approval authority must use to quantify the acceptance of risk for continued operations when offsite dose consequences have not been reduced to a small fraction of the Evaluation Guideline.

6. Formally designate the responsible organization and identify the processes for performing oversight to ensure that the responsibilities identified in Item 5 above are fully implemented.

 
____________________________________
Peter S. Winokur, Chairman
---
Added by Cryptome
Los Alamos TA-55 Plutonium Facility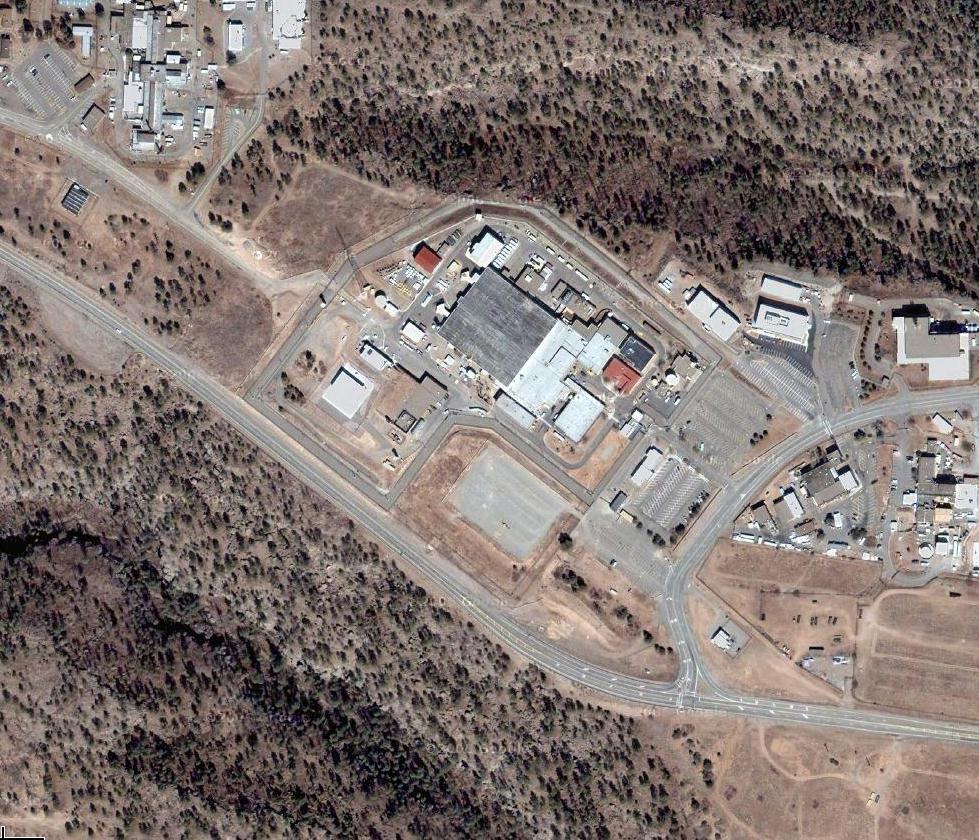 Images and text below from: http://cryptome.org/eyeball/lanl/lanl-eyeball.htm
4.32.1 Site Description
The Plutonium Facility Site at TA-55 [Table 4-28, Figure 4-32 (index map of TA-55)] is located on 40 acres (16.18 ha) about 1 mi (1.6 km) southeast of the central technical area (TA-3). Most of TA-55 is situated inside a restricted area surrounded by a double security fence. The main complex has five connected buildings: the Administration Building (Building 1), the Support Office Building (Building 2), the Support Building (Building 3), the Plutonium Facility (Building 4), and the Warehouse (Building 5). The Nuclear Materials Storage Facility (Building 41) is separate from the main complex but shares an underground transfer tunnel with Building 4. Various support, storage, security, and training structures are located throughout the main complex.
4.32.2 Facilities Description
To meet the varied needs of research and development and plutonium-processing programs at the Laboratory, TA-55 provides chemical and metallurgical processes for recovering, purifying, and converting plutonium and other actinides into many compounds and forms. Additional capabilities include the means to safely and securely ship, receive, handle, and store nuclear materials, as well as manage the wastes and residues produced by TA-55 operations. A core capability is basic and applied research in plutonium and actinide chemistry.
Core competencies are maintained in the Plutonium Facility for each type of plutonium-processing activity. Extensive plutonium recovery processes are maintained, as well as the ability to convert the recovered material to plutonium metal. A separate portion of the facility is dedicated to fabricating ceramic-based reactor fuels and to processing 238Pu used to produce radioisotope heat sources. In addition, analytical capabilities, materials control and accountability techniques, and a substantial R&D base are available to support these core capabilities.
A sophisticated nuclear materials measurement and accountability system is used at TA-55. The system includes nuclear materials accounting, nuclear materials management and modeling, a measurement support operation, operation of a nondestructive assay laboratory, nuclear materials packaging and transfer, and nuclear materials storage. All nuclear materials that are in process or are stored onsite are monitored to ensure that material balances are properly maintained and inventoried on a real-time basis. The nuclear-materials-packaging and transfer operation receives nuclear material into the facility and transfers shipments out of the facility. The nuclear materials storage operation provides a safe storage location for the actinide materials at the Plutonium Facility.
The Plutonium Facility has extensive capabilities for treating, packaging, storing, and transporting the radioactive waste produced by TA-55 operations. Liquid wastes are converted to solids or are piped to the RLWTF at TA-50. Some solid TRU wastes are immobilized in cement in 55-gal. (208-L) drums. Other TRU waste is consolidated in 15-gal. (57-L) or 30-gal. (114-L) drums or is packaged in waste boxes. Low-level wastes are also packaged at this facility. Solid wastes of all types are stored at TA-55 until they are shipped to Laboratory waste storage or disposal locations, primarily at TA-54.
4.32.2.1 Facility Hazard Categories
Table 4-28 identifies the facilities at TA-55 that fall into a facility hazard category because of the type of operations performed in the facility.
4.32.2.1.1 Nuclear Facility Hazard Categories
The Plutonium Building (Building 4) is categorized as a Hazard Category 2 nuclear facility. Although not currently operational, the Nuclear Materials Storage Facility will also be a Hazard Category 2 nuclear facility and is shown as such on the accompanying maps.
4.32.2.1.1.1 Plutonium Building
Plutonium processing is performed in the Plutonium Building (Building 4, Figure 4-32, Sheet 1), which is a two-story laboratory of approximately 151,000 ft2 (46,025 m2). The exterior walls and roof are of reinforced concrete. A concrete fire wall divides the building into two halves, each of which contains its own ventilation systems and electrical substations. One half of the process floor is divided by a central corridor into Areas 100 and 200. This half contains the plutonium research and development laboratories, the 238Pu operations, and the personnel decontamination area. The other half is divided into Areas 300 and 400 by another corridor. This half houses plutonium recovery, metal preparation and fabrication, and nondestructive analysis laboratories.
Each of the processing areas is further divided into a number of rooms that contain the gloveboxes for plutonium work. The ventilation systems that service the gloveboxes and all other utilities are located in the basement of the facility. The basement also houses critical support equipment, including all other ventilation equipment, the packing/unpacking room, waste-handling areas, the isopress laboratory, and the plutonium storage vault.
Three levels of containment are provided for plutonium processing. The primary confinement system includes gloveboxes, hoods, vessels, tanks, piping, and the glovebox ventilation exhaust system. The secondary confinement system includes the walls, floors, ceiling, and doors of the laboratories containing the gloveboxes, as well as the laboratory recirculation and bleed-off exhaust system. The exterior walls, floor, roof, and doors of the structure, along with the basement exhaust system, provide the tertiary confinement system.
The ventilation system in the facility has four zones, all of which are maintained at a lower pressure than that of the outside air. Air enters the two halves of the facility through an intake stack that has four ducts. Two ducts supply air to each half of the building. The ventilation system is designed so that each zone operates as a separate building with its own filtered exhaust stack. Exhaust from each confinement area is sent through at least two stages of HEPA filtration to prevent radioactive particles from being discharged to the environment.
The conveyor system in the facility transports contaminated material and equipment to almost any point on the first floor. Elevated stainless steel tunnels equipped with a trolley hoist system connect the gloveboxes. The vertical portions of the tunnels connect the overhead system to the gloveboxes at drop boxes located on the first floor. These drop boxes are the transfer points in which items are hoisted up to the trolley in the overhead tunnel system for eventual offsite waste disposal.
The criticality detection system monitors operations on the main processing floor of the Plutonium Facility and in the basement vault to detect gamma energy released from fission of SNM. The system is designed to detect conditions that could lead to a criticality accident in this facility and to sound an audible alarm. The alarm initiates immediate evacuation to minimize personnel exposure. This system consists of 20 Geiger-Mueller detector heads and associated circuitry located throughout the first-floor process areas and basement vault.
A continuous air-monitoring system is used to sample and analyze air from multiple points throughout the laboratory areas, basement, ductwork, and exhaust stacks. A continuous stream of sample air is drawn to a solid-state alpha detector, whose data are used for man/machine interface (lights, meter, squealer) and for monitoring by the operations center.
Other supporting systems include fire detection and suppression systems, a chilled-water system, an instrument air system, electrical power, water distribution systems, and a vacuum system. Voice communication is provided by a paging system and a telephone system. The emergency system provides paging throughout the TA-55 area and sounds the criticality and fire alarms.
4.32.2.1.1.2 Nuclear Materials Storage Facility
The Nuclear Materials Storage Facility (Building 41, Figure 4-32, Sheet 1) will eventually contain a significant amount of stored nuclear material. This facility is primarily intended for intermediate and long-term storage of SNM. Although completed in 1987, the Nuclear Materials Storage Facility has never operated because of design and construction deficiencies. A major renovation project is being planned to correct those deficiencies so that the facility can operate. The renovation project is expected to be completed by 2001.
4.32.2.1.2 Non-Nuclear Facility Hazard Categories
Two facilities, Buildings 3 and 5, are categorized L/CHEM, and one facility, Building 7, is L/ENS. Building 3 (the Support Building) contains some laboratories that use chemicals. Building 5 (the Warehouse) is used to store chemicals. Building 7 (the Calcium Building) is used to store calcium (Figure 4-32, Sheet 1).
4.32.2.2 Nonhazardous Facilities
Approximately 55 other facilities exist at TA-55, all of which have been categorized nonhazardous. These buildings are administrative, technical, and general storage buildings; passageways; and pump stations.